Wild Trout Initiative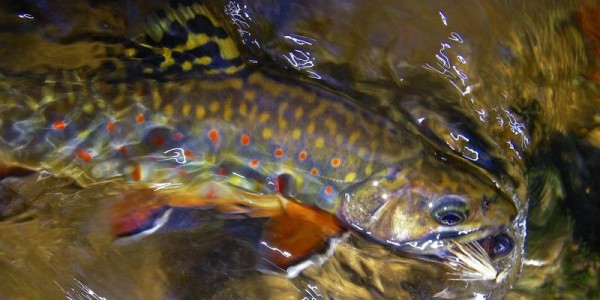 The VTFWCG's Wild Trout Initiative looks to promote the conservation of wild brook trout and their habitats. Brook trout are Vermont's only native stream-dwelling trout. Actually a member of the char family, brook trout thrive in cold, clean waters, and help serve as indicators of the health of the watersheds they inhabit.
Brook trout do not compete well with introduced fish, particularly perch, bass, and rainbow and brown trout. This inability to compete, combined with their requirement of cold, clean water, has relegated most wild brook trout populations to headwater streams and a few medium-sized rivers. Lacustrine (Lake/Pond) populations are even more limited.
Native and wild brook trout populations represent a unique, valuable and irreplaceable resource. This initiative looks to promote public awareness of wild brook trout and to protect and enhance their habitat.
A summary of the status of wild brook trout in Vermont is available here:
Eastern Brook Trout: Status and Threats produced by the Eastern Brook Trout Joint Venture
Pherrins River Brook Trout Genetic Results
In August, 2007 the VTFWCG, with help from the Vermont Fish & Wildlife Department, collected tissue samples from 79 brook trout from the Pherrins River. These samples, as well as samples of our hatchery fish and samples from the Department's broodstock at Salisbury, were sent to UVM for genetic analysis and comparison.
Primary findings:
1. Brook trout sampled from the Pherrins River are not hatchery fish, at least not from the current strain.
2. Brook trout sampled from the Pherrins River do not show any evidence of substantial gene flow or successful reproduction with hatchery fish.
3. These results support the hypothesis that brook trout from the Pherrins River are a native population.