Green Mountain Conservation Camp Sponsorship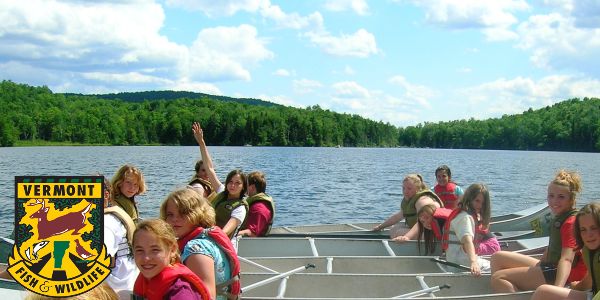 The Vermont Fish and Wildlife Department operates the Green Mountain Conservation Camps at two locations — Lake Bomoseen in Castleton and Buck Lake in Woodbury.  The program's mission is to educate youth about Vermont's natural resources. Students learn about fish and wildlife conservation, forestry, orienteering, swimming, canoeing, fishing, gun safety, and more in an attractive outdoor setting.  Natural resource professionals come to the camp during the week to share information on their programs and take campers out for field activities.  The success of natural resource conservation depends on people's awareness and understanding of natural resource management. One way you can help is to encourage young men and women to attend one of the Camps.
2012 Conservation Camp Application (click here)
The Camps are for youths age 12-14 (12-16 for advanced sessions) with one week sessions running from June to August.  Cost to attend is $200, including food, lodging and equipment. Scholarships are available for low income families, and sponsorships are available from many conservation organizations.  Since 1989 the Vermont Fish and Wildlife Conservation Group has helped pay the way for nearly 200 local youths attending the camps.
more information about the Green Mountain Conservation Camps…
The VTFWCG offers sponsorships to local youths in the amount of $100 (1/2 of total cost). Up to 15 sponsorships are available on a first-come, first-served basis, but priority will be given to first time campers.
For more information or to get a child sponsored, contact Walt Driscoll at (802) 723-6290
We are currently seeking members (or anyone interested in becoming a member) to manage our camp sponsorship program. Responsibilities would include distributing information to schools, recruiting local youths for sponsorships, and keeping track of who we have sponsored and relaying that information to VT Fish & Wildlife Department staff. This can be split among multiple individuals covering different areas/schools.   If you are interested, or would like more information, contact Byron Fish at (802) 723-6385